A wise, humane, and delightful book.
— Tom Flynn, Editor, Free Inquiry magazine
A very readable book that hits the high spots of a life-stance that reflects the very best in the human character.
— Barrie Webster, President, Victoria Secular Humanist Association

Every day, the world sees suffering caused by dogma, ignorance and intolerance. Humanism presents an alternative, a life stance and social movement based on reason, knowledge and genuine concern for human well-being. It promotes the idea that the challenges of modern life are best addressed by our intellectual, moral and social capabilities, free from notions of supernatural purpose. Humanitarian and community-oriented, valuing both the sciences and the arts, humanism holds that it is human thought and action that bring meaning and purpose to our lives.
Voices of Humanism is a collection of writing that demonstrates humanistic thinking — independent, compassionate, rational and constructive explorations of various matters of human importance. The book is edited by Gary Bauslaugh, structured around the seven tenets of humanism, as defined by the International Humanist and Ethical Union.

Writers
James Alcock
Mark Battersby
Gary Bauslaugh
Bryson Brown
Shawn Dawson
Jonny Diamond
Gwyneth Evans
Shirley Goldberg
Trudy Govier
Ian Johnston
Mike Matthews
Theo Meijer
Dan Overmyer
Joseph Tussman
Robert Weyant
Illustrators
Marian Bantjes
Charlotte Campbell
Mitsu Ikemura
Zela Lobb
Dushan Milic
Ingrid Mary Percy
Nathan Popp
Shawn Shepherd
Amanda Park Taylor
→ Download the Table of Contents & Introduction in PDF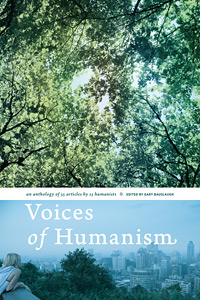 For a discounted price on a large quantity, contact emrys@voicesofhumanism.com.

Connect